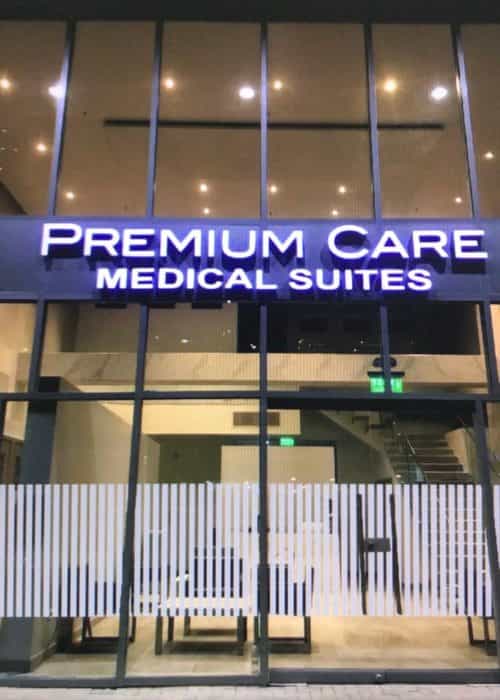 Premium Care Medical Suites
Premium Care has reinvented the plastic surgery experience, providing patients with optimal treatment in a spectacular setting. Our unique model and exclusive partnerships allow us to provide enhanced services at unbeatable value, providing patients with a truly superior product for less investment.
Premium
Care
Medical
Suites
The
Ultimate
Plastic
Surgery
Experience
It all begins when people walk into a modern and spacious lobby. We've used the very best in design and materials to construct a space that feels more like a luxury hotel than a medical office. Our lobby is contemporary yet comfortable highlighted by beautiful Italian marble, soaring panes of glass, and customized furniture to welcome patients to an experience unlike any other.
Patients have their surgical consultations in physician offices that appointed with the finest finishes and furnishings, so that they interact with their surgeons and plan their procedures in an ideal setting. On the day of surgery, patients enjoy a completely private preoperative preparation area to get changed into their surgical clothes and relax before surgery in a calm and relaxing setting. This is also where our surgeons visit patients and do surgical markings, with our nurses by their side as they prepare for a great operation.
At the heart of Premium Care Medical Suites is our operating suite. We've designed this to offer the very best infrastructure and technology available in world. We've invested in the very best surgical, anesthesia, and operating room equipment from the world's best companies including Drager, Stryker, Steris, Covidian, and Microaire. This is the ultimate operating room designed by surgeons for surgeons, and we have spared no expense to make sure we are giving patients the very best.
Perhaps even more important are the components behind the walls that make everything possible. Our LG TECAM air filtration system is the finest available and ensures that this space if 100% free of contaminants. We've contracted Messer to offer top quality for medical gases and our on site pharmacy provides unparalled quality when it comes to all medications, sutures, and materials. Likewise, out sterilization facilities and equipment are the finest available, and ensure the same level of quality available in the top hospitals around the world.
The recovery process begins immediately after surgery, and our individual recovery rooms offer a unique level of personalized attention and privacy.