Welcome to Cartagena
Cartagena de Indias is the undisputed queen of the Caribbean coast, a fairytale city of romance, legends and superbly preserved beauty lying within an impressive 13km of centuries-old colonial stone walls. The magic of Cartagena lies in its massive fortifications, the warmth of the people, the richness of the architecture, and the infinite range of cultural expression of a spirited people. Cartagena enjoys a tropical climate 365 days a year, and has a perfect mix of Spanish-Colonial and Caribbean influences that create a place full of beauty and excitement. Boca Grande and Castillo Grande rise as the modern and swanky counterparts, filled with new luxury hotels, residential towers, and entertainment options all set along a scenic peninsula jutting into the Caribbean Sea. Cartagena is a blend of the old and the new and has emerged as the "jewel of South America."
Top 20 Things to do in Cartagena, Colombia
1. Old Town
Cartagena's Old Town is a UNESCO World Heritage Site – a maze of cobbled alleys, balconies covered in bougainvillea, and massive churches casting their shadows across leafy plazas. Within the fortified walls are seemingly endless monuments, balconies, churches, battlements, and decadent colonial mansions displaying impressive Spanish colonial architecture. Soak up the sensual atmosphere during a stroll through the Old Town day or night, pausing in one of the city's many open-air cafes to take it all in while enjoying delicious local flavors. Numerous walking tours are also available.
When: Day or Night
Where: Numerous street entrances traverse the walls into historic center.
Cost: Free walking tours available.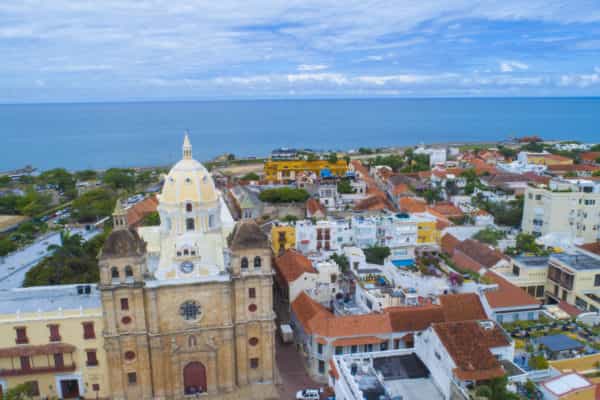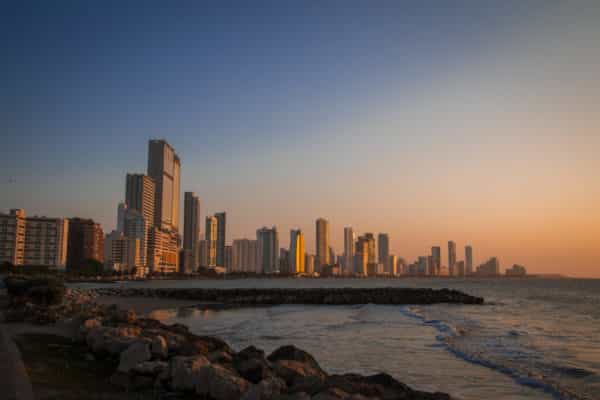 2. Bocagrande
To the west of the old town, the peninsula of Bocagrande is where fashionable Cartageneros sip coffee in trendy cafes, dine in glossy restaurants, and live in the upscale luxury condos that line the Caribbean beaches. Premium Care Plastic Surgery® is perfectly located in the heart of this thriving community, providing the ideal setting for service and sophistication. Enjoy beaches, shopping, restaurants, and gorgeous infinity pools lining the oceanfront.
When: Beaches: Sunrise to Sunset
Where: Carrera 1 (Bocagrande beach) and Carrera 2 (San Martin commercial avenue)
Cost: Free
3. Beaches
Cartagena has an extensive collection of beaches stretching along 19 kilometers and offering plenty of options for those looking to catch some sea and sun. Each swathe of Caribbean sand comes with its own vibe. Whether it's the longest and action packed Bocagrande, the laid-back family feel of Castillogrande, the myriad watersports options on offer in Laguito, or the beach clubs and resorts popping up in Tierrabomba, La Boquilla or Manzanillo del Mar, there's a host of fun, sun and sea options for everyone. In addition to sunbathing and relaxing, visitors can enjoy abundant water sports like paddle boarding, jet skiing, wind surfing, kite surfing, water skiing, and parasailing. Also available are picturesque bays for sailing, stunning reefs for scuba diving and snorkeling, and fully equipped charters for a memorable day of deep-sea fishing.
When: Daylight hours (approximately 6 am to 6 pm)
How: Walk, drive, or boat depending on destination
Cost: Free, Tent with chairs approximately $10
4. Islas del Rosario
Islas del Rosario is a stunning natural archipelago of islands located off the coast of Colombia, approximately one hour by boat from Cartagena. A day trip easily allows visitors to experience this sanctuary of white-sand beaches, exotic flora and fauna, and crystal clear turquoise colored waters. The area is protected as a natural park and well preserved, meaning that visitors can enjoy its wonders as nature intended. Take in the scenery, enjoy a lunch of fresh seafood on a remote beach, and let yourself relax completely while enjoying a massage.
When: Day trips generally 9am to 4pm
How: There are a variety of hotels such as Hotel Majagua that offer day trips including speedboat transportation and lunch, or you can rent a private speedboat with captain from around an unforgettable private tour.
Cost: Island hotel packages approx. $60 to 80, private speedboats start at $400 daily
5. Castillo San Felipe (San Felipe Castle)
The Castillo San Felipe is the greatest castle fortress ever built by the Spanish empire in any of its colonies, and still dominates an entire section of Cartagena's cityscape today. Now a UNESCO World Heritage Site, construction began in the year 1536 it became a powerful bastion dominating approaches to the city by land or sea. During its colorful history the fortress protected Cartagena against numerous renegade pirates, and successfully defended against attacks by the British and French empires. Castillo San Felipe is open from and offers breathtaking views of Cartagena and its stunning Caribbean backdrop.
When: 8am to 6pm daily
How: Walk, drive, or boat depending on destination
Cost: Admission $4, English-speaking guide $6
6. City Tour
A city tour is a great way to spend the afternoon getting to know all of the key parts of Cartagena. Either with a private driver or with a hop-on hop-off bus you can take you to see the historic city center, the clock tower, Getsemani neighborhood, San Felipe castle, San Martin shopping district, Bocagrande beaches, and the upscale neighborhood of Castillogrande.
When: Daylight hours (approximately 6 am to 6 pm)
How: Walk, drive, or boat depending on destination
Cost: Private car with driver/guide $75 day tour; Hop-on hop off $25
7. Horse Drawn Carriage
A must-do is to take a horse drawn carriage ride where local guides will to experience this historic city as you would have two or three hundred years ago. Carriages are available almost anywhere throughout the city and on a 30 minute ride you will see you'll see amazing architecture, colorful explosions of flowers bursting from hanging baskets and balconies, and street performers playing instruments, dancing, and singing for your enjoyment.
When: Day or night
How: Carriages are throughout the city center
Cost: Approx. $15 for a 30 minute tour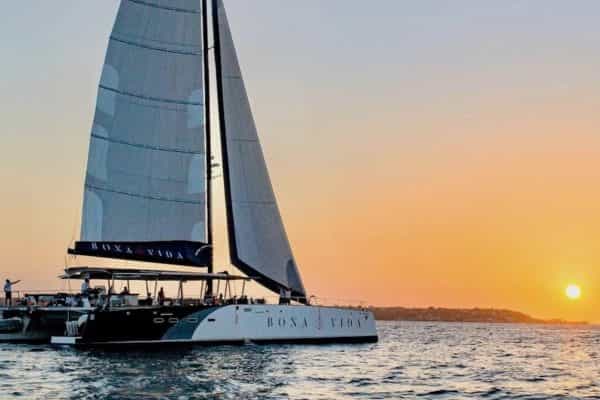 8. Sunset Sailing Cruise
The Bona Vida luxury sailing catamaran offers a wonderful way to enjoy the sunset at sea while taking in gorgeous views of Cartagena from the water. This cruise is very convenient, leaving nightly at 5:00pm from the Bodeguita pier in front of the walled city of Cartagena for the two-hour cruise. The sailboat is 80 ft and accommodates up to 200 people, navigating skyscrapers of Manga and Bocagrande, before passing between Castillo Grande and Tierra Bomba Island where the bay opens to the sea. Sunsets are magnificent, and guests enjoy music, drinks, and appetizers while sailing and enjoying the view as the lights of the skyscrapers are illuminated and the spectacular skyline of Cartagena comes to life.
When: Evenings (5pm-7pm)
How: Booking via https://bonavidacatamaranes.com/es/
Cost: Approx. $25 includes drink and finger food
9. Sunset at Café del Mar
You can easily walk on top of the city walls admiring the views of the Caribbean Sea while exploring the fortifications and canyons that once guarded the city from attack. Another quintessential experience in Cartagena is to enjoy the sunset at the edge of the walled city at iconic Café del Mar, soaking in the Caribbean sea breeze with delicious cocktails and a cosmopolitan atmosphere.
When: Evenings (5pm-7pm)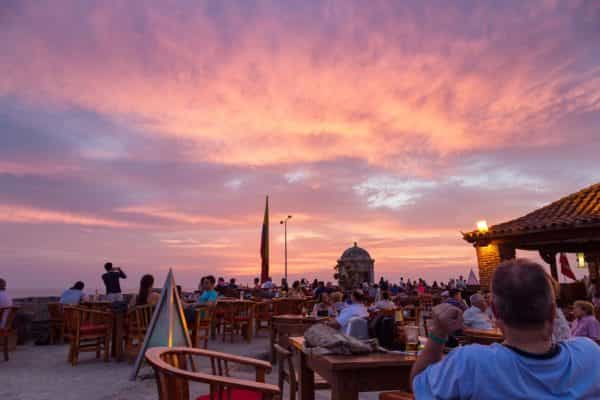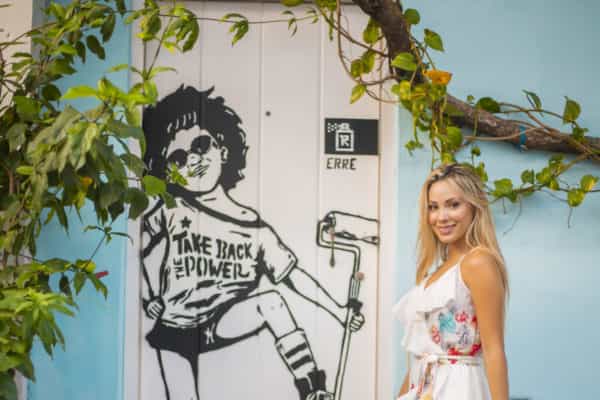 10. Getsemani
Hip Getsemani centers on Holy Trinity Square, where laid-back groups gather to share drinks and conversation while listening to street musicians and snacking on local foods from nearby stalls. Lively pizzerias and casual bistros serving Colombian staples line the surrounding streets, which are also known for their vivid murals. Brewpubs, cocktail bars and the famous salsa bar Cafe Havana keep the party vibe going till the early hours.
11. Restaurants
Cartagena has arrived as an international hotspot for tourists and offers a wide array of restaurants serving up not only local, but also national and international fare. No matter what you're looking for, you can probably find it in Cartagena. Famous local dishes include Cazuela de Mariscos (seafood stew), Mojarra Roja (fried whole fish), and Ceviche and great Colombian dishes from other parts of the country include Bandeja Paisa and Ajiaco. A wide variety of international offerings offer creative and innovative dishes in a multitude of beautiful settings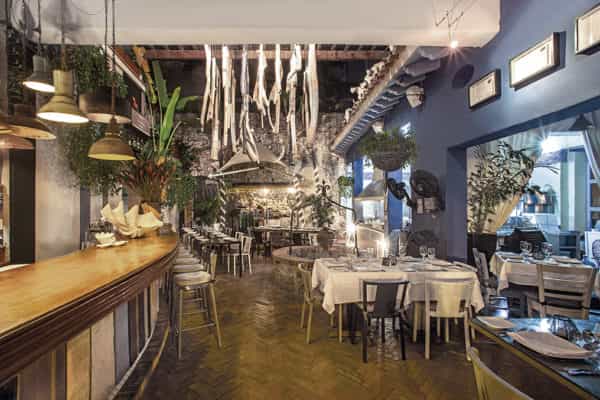 12. Shopping
Cartagena offers a wide array of shopping options from local markets like Bazurto to exclusive shops and boutiques in Bocagrande and the Historic City Center (Old Town). Upscale malls Plaza Bocagrande (Bocagrande) and La Serrezuela (Old Town) offer beautiful spaces along with all of the famous Colombian brands and a wide variety of restaurants. Mallplaza and Caribe Plaza are larger malls with top brands as well as department stores and restaurants. Local shops in Bocagrande, and throughout Old Town offer a wide array of local accessories, art, decoration, jewelry, and leather goods.
13. Nightlife
Most people visit Cartagena to experience its beautiful architecture, wonderful museums, and stunning Caribbean setting, but it's also home to a fantastic nightlife scene, with plenty of excellent bars and nightclubs to satisfy even the most hardened party animal. From swinging salsa clubs in the heart of the Old Town to late-night electronic joints, there 51 Sky Bar offers the best views of the city from the top of Colombia's second highest building while Alquimico, La Movida, and La Jugada in the Old Town are favorite party spots for sophisticated Cartageneros and La Havana is famous for its salsa.
14. National Aviary
The National Aviary of Colombia is one hour from Cartagena in Baru and offers 7 hectares of wilderness for visitors to observe a unique and wonderful collection of birds from Colombia and Latin America. Through various ecological walking trails you can enjoy three ecosystem environments and 21 exhibitions divided into large immersion aviaries, radial aviaries, swamps and lakes. The Aviary boasts 190 species of tropical birds and about 2000 specimens spread across three ecosystems (tropical rainforest, coastal zone, and desert) and a visit takes around 2 hours. Note that the Aviary is just next to Playa Blanca and so a nice day trip is to combine the two.
When: Monday-Sunday (9am – 5pm)
Cost: Adult ticket $12 (plus transportation)
15. Playa Blanca
Playa Blanca is also one hour from Cartagena and absolutely stunning, stretching as far as the eye can see in either direction with white sand and turquoise blue water. Rent a tent and spend a relaxing day hanging out, lounging in front of the sea, swimming, and maybe even take a a jetski for a spin. It has become very popular since the opening of a bridge connecting the island has made accessing the beach much easier, and is quieter on weekdays.
When: Monday-Sunday (Sunrise – Sunset)
Cost: Adult ticket $12 (plus transportation)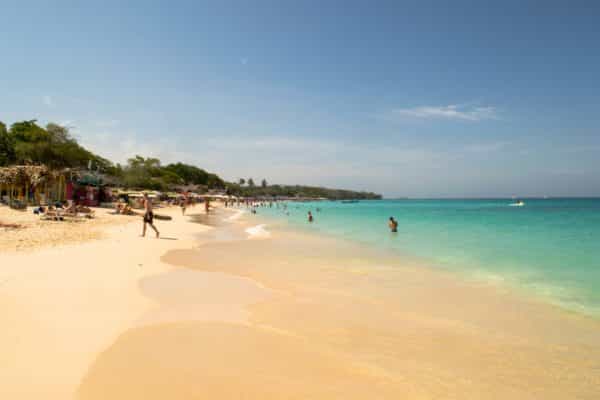 16. Chiva bus
In Cartagena, you will no doubt notice the bright, colorfully painted buses blaring Latin music and full of people who look like they are having a great time driving around the city. The open-air, party-on-wheels Chiva bus is a Cartagena tradition and you will never regret spending a few hours touring the city while enjoying drinks, appetizers, live music, making new friends. You can go during the day for a city tour, or take a night-time party Chiva tour ending at one of the local clubs.
When: Monday-Sunday (Afternoons and Evenings)
Cost: $20-$30 (includes tour, drinks and music)
17. Castillogrande Bay
Castillogrande is considered one of the most ritzy neighborhoods in Cartagena, with modern white residential high rises lining a small peninsula on the southeast end of Bocagrande. This is a residential neighborhood, and thus far less busy than Bocagrande. There is a beautiful boardwalk along the bay stretching 2.5 km from the Naval base to the Naval club at the tip of the peninsula, offering perfect sidewalks for a stroll, jog, or bike ride.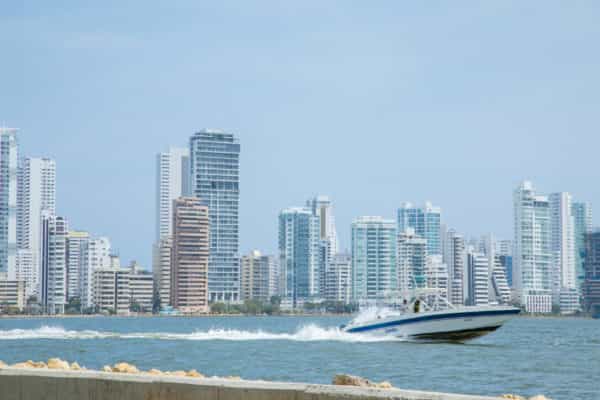 18. Emeralds
Some of the highest quality emeralds on the planet are available right here in Cartagena, making these precious green stones a coveted item for many visitors. Colombia is by far the world's largest producer of emeralds, accounting for 50 to 90% of the world's total production. Nationally and internationally renowned Lucy Jewelry has been selling emeralds for more than 30 years in Cartagena, and is rated by Trip Advisor as one of the best places to buy emeralds. A visit is always memorable for their high quality products, excellent service, fair prices, and a beautiful space to view pieces and consider the possibilities.
When: Monday-Saturday (10am – 6pm)
Cost: Based on size, cut and clarity of the emerald.
19. Segway
A fun and adventurous way to explore the majestic Old Town on a Segway, a two-wheeled, self-balancing, battery powered electric vehicle. The rider commands the Segway by shifting his weight forward or backward, and steers by pushing the handlebar left or right. It is surprisingly easy to learn, and a lot of fun! Segway Cartagena offers an innovative tourism experience with guided tours onboard your own personal transporter. Rather than walking long distances, visitors can glide through the streets of the walled city and its world famous historic landscapes.
When: Monday-Saturday (10am – 6pm)
Cost: $35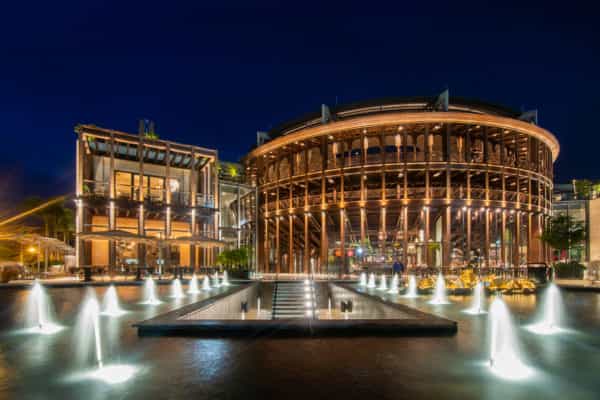 20. La Serrezuela
The old Theater and Bullring, set in the traditional San Diego neighborhood, has been restored and turned into a cultural, entertainment, shopping and culinary center. This new landmark in Cartagena's historic center delights visitors with its stunning architecture and outdoor terraces, with stunning views of the city walls, La Popa, San Felipe Castle and the Caribbean Sea. La Serrezuela offers excellent shopping, a wide array of delicious restaurants, and a frequent water fountain light shows at the center of the mall.
When: Sunday-Wednesday (9am – 10pm); Thursday – Saturday (9am – 12am);
Cost: Free