Ear surgery in Colombia
Ear surgery in Colombia – also known as otoplasty – can improve the shape, position or proportion of the ear. It can correct a defect in the ear structure that is present at birth, or it can treat misshapen ears caused by injury.
One of the most commonly performed plastic surgery procedures, ear surgery in Colombia is also popular around the world with hundreds of thousands of ear reshaping surgeries performed each year. Both men and women frequently seek changes in the appearance of their ears.
Ear surgery in Colombia - Before and After
Ear surgery creates a natural shape, while bringing balance and proportion to the ears and face. Correction of even minor deformities can have profound benefits to appearance and self-esteem.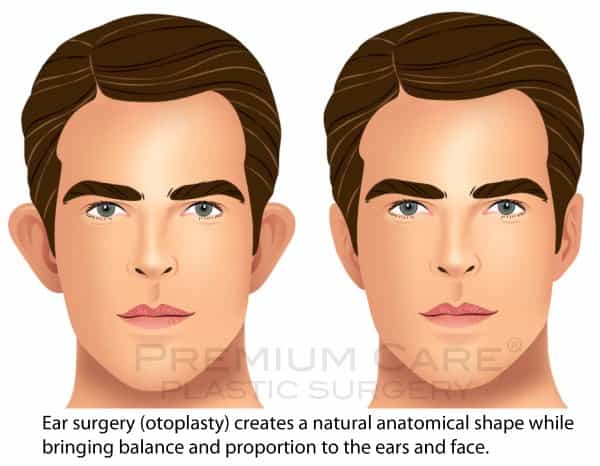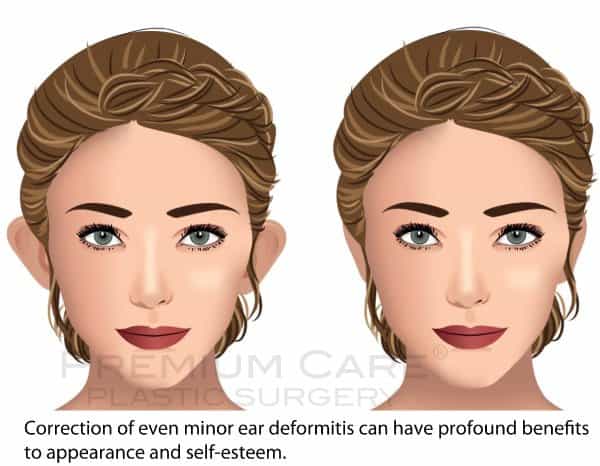 Ear surgery in Colombia can be performed by a plastic surgeon with expertise in pediatric plastic surgery. All of our plastic surgeons at Premium Care have done fellowships in pediatric plastic surgery. It is important to choose a pediatric surgeon if the otoplasty is being performed on a child. Your child should be told what to expect in an age-appropriate manner. Both parents and the child should have realistic expectations of what the ear surgery will and won't do.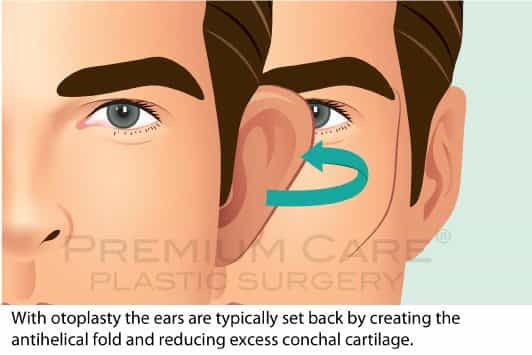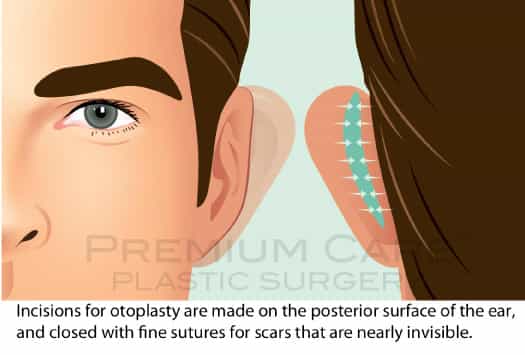 Ear surgery in Colombia can treat:
● Overly large ears — a rare condition called macrotia
● Protruding ears occurring on one or both sides in varying degrees — not associated with hearing loss
● Adult dissatisfaction with previous ear surgery
Otoplasty is most commonly performed to correct protruding ears. Although otoplasty does not affect hearing, it can provide great psychological benefits. Young children, who are teased by their classmates about their ears, especially benefit from this procedure. Many adults have otoplasty, as they may be self conscious about the fact their ears protrude. This prevents many females from pulling their hair back in a ponytail or wearing other hairstyles. Men of course find it much harder to cover their ears.
Otoplasty is often performed on children around the age of 5 or 6. Unlike other facial features, the ear has reached its adult size and is almost fully formed by then. Another incentive for early intervention is that the ear cartilage is soft and malleable during childhood, making the surgery easier to perform. If done at a young age, Ear Surgery in Colombia can allow children with larger or misshapen ears to avoid traumatic teasing by their peers.
Adults, too, may benefit from otoplasty. In addition to its cosmetic applications, ear surgery in Colombia can also help reconstruct ears that have been injured in an accident or via persistent ear pulling. Similarly, earlobe surgery can be performed to repair earlobes that are torn due to trauma or from wearing heavy earrings.
Ear Surgery in Colombia Videos
About Ear Surgery in Colombia
Consultation & Preparation
Procedure & Recovery
Vocabulalry & FAQ's