Buttock Augmentation in Colombia
Many women consult our plastic surgeons in Cartagena about the procedure known as a Buttock Augmentation in Colombia, or butt lift.
When planning a Buttock Augmentation in Colombia, patients can look forward to a double benefit: reducing areas of unwanted fat while gaining a perkier, rounded posterior. Our plastic surgeons plan each procedure according to the individual needs of their patients, harvesting fat from target areas of the torso, thighs or knees and transferring it to create smooth, attractive contours optimized for each person.
Many patients welcome the idea that during Buttock Augmentation in Colombia their own tissue can be used to enhance their shape. The amount of fat transferred from love handles or flanks depends on the quantity available and the extent of buttock augmentation in Colombia each patient desires.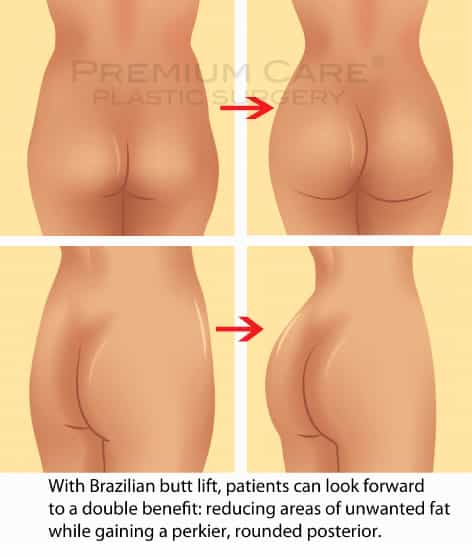 Buttock Augmentation in Colombia Videos
About Buttock Augmentation in Colombia
IMPROVE BUTTOCKS CONTOUR WITH BUTTOCK AUGMENTATION IN COLOMBIA
Candidates for a Buttock Augmentation in Colombia include patients of all ages. Older women often want to add volume to their buttocks to counteract the effects of gravity. Younger patients may want to balance their figures or simply enhance a small derriere. You may not be a good candidate if you're very slim with little fat to spare.
Consultation & Preparation
YOUR BUTTOCK AUGMENTATION IN COLOMBIA CONSULTATION AT PREMIUM CARE PLASTIC SURGERY
When you come to our plastic surgery center in Cartagena for your initial consultation, your surgeon will discuss with you the status of your body and your desires for improvement. Your surgeon will also assess your skin for elasticity, provide you with complete physical examination, and evaluate your past medical history. This process is essential for establishing you as a candidate for buttock lift surgery.
Your surgeon can recommend certain steps to help you achieve optimal health for your procedure. The Premium Care Plastic Surgery team will also coordinate with your medical doctors to define the steps necessary for you to obtain medical clearance for surgery. Our team also provides access to their specialists in nutrition and exercise physiology to optimize your chances for success, and for a healthy lifestyle and more beautiful you.
BE PREPARED TO DISCUSS:
Why you want the surgery, your expectations and desired outcome
Your general health status and any pre-existing health conditions or risk factors
Medical conditions, drug allergies and medical treatments
Previous surgeries
Use of current medications, vitamins, herbal supplements, alcohol, and tobacco
YOUR PLASTIC SURGEON WILL ALSO:
Take photographs for your medical record
Discuss your options and recommend a course of treatment
Discuss likely outcomes of liposuction and any risks or potential complications
Be sure to ask questions. It's very important to ask your plastic surgeon questions about your procedure. It's natural to feel some anxiety, whether it's excitement for your anticipated new look or a bit of preoperative stress. Don't be shy about discussing these feelings with your Premium Care plastic surgeon. The entire Premium Care staff is here to support you through your journey to a new you.
If you're ready to meet with our plastic surgeons at Premium Care Plastic Surgery in Colombia, you can request a consultation online or contact us at (+57) 312 545 5569 in Cartagena and (+1) 305 848 1909 in United States.  You will be amazed about how affordable cosmetic plastic surgery can be, and with an experience like no other!
PREPARING FOR BUTTOCK AUGMENTATION IN COLOMBIA
Premium Care Plastic Surgery encourages you to take a few simple steps in preparation for your buttock lift procedure. Following the steps presented below will make your recovery from surgery as safe, short and relaxing as possible.
Your surgeon will provide you with a list of specific steps you should take leading up to your procedure. This list might include limiting your use of certain medications, alcohol and cigarettes, and minor changes in your grooming habits. These changes are temporary but very important to your comfort and safety.
BEFORE BUTTOCK AUGMENTATION IN COLOMBIA, YOU MAY BE ASKED TO:
Get lab testing or a medical evaluation
Take certain medications or adjust your current medications
Stop smoking well in advance of surgery
Avoid taking aspirin, anti-inflammatory drugs and herbal supplements as they can increase bleeding
SPECIAL INSTRUCTIONS YOU RECEIVE WILL COVER:
What to do on the day of surgery
The use of anesthesia during your buttock lift
Post-operative care and follow-up
Medications and compression garments to purchase and bring with you on the day of surgery
On the day of your surgery, we ask that you wear no jewelry or make-up and avoid deodorant, skin lotions and perfume. We recommend warm, loose fitting clothing, such as pajamas or sweat pants with thick socks or slippers to prevent the chills commonly experienced after surgery. Please inform your surgeon if you have a cold, sore throat, active allergies or an open cut or sore on the day of your surgery.
You'll need help. Arrange for someone to drive you to and from surgery and to stay with you for at least the first night following surgery. Effective planning prior to undergoing arm lift can make your recovery as brief and relaxing as possible.
If you are want to pursue a Buttock Augmentation in Colombia at Premium Care Plastic Surgery in Colombia, or simply want more information on these transformational procedures, please call us at (+57) 312 545 5569 in Cartagena (+1) 305 848 1909 in United States or schedule your consultation online.
Procedure & Recovery
BUTTOCK AUGMENTATION IN COLOMBIA – PROCEDURE STEPS
Step 1 – Anesthesia
Medications are administered for your comfort during the surgical procedures. The choices include intravenous sedation and general anesthesia. Your doctor will recommend the best choice for you.
STEP 2 – THE PROCEDURE
The plastic surgeon harvests fat carefully through small incisions in the target areas. They then select and prepare the fat they will use to augment the buttocks.  The harvested fat is processed and then injected through tiny incisions into multiple layers under the skin to create a rounder, fuller, more curvaceous bottom. One nice advantage of the fat harvest from nearby regions is that is can accentuate the curvaceous appearance overall if the area next to the buttocks gets even smaller while the buttocks get fuller.  The surgery is performed as an outpatient procedure.
 STEP 3 – SEE THE RESULTS 
The smoother, tighter contours that result from liposuction are apparent almost immediately following your procedure, as are the improved curves and contours after buttock lift.  Initial results will be somewhat obscured by swelling and bruising which resolved over time.
For more information on Buttock Augmentation in Colombia, request a consultation online or call us at (+57) 312 545 5569 in Cartagena and (+1) 305 848 1909 in United States.   Premium Care Plastic Surgery in Colombia is able to offer some of the best prices on cosmetic plastic surgery procedures available, and with world-class quality and an experience like no other.
BUTTOCK AUGMENTATION IN COLOMBIA RECOVERY
Recovery from a Buttock Augmentation in Colombia varies for each patient. Generally speaking, the more extensive your liposuction in Colombia is, the longer it can take to get back to all your normal activities. You should be able to sit right away for short periods, then sit comfortably for prolonged periods and go back to work within a few days.
Risks
Because your own fat is used in a Brazilian butt lift, there is little chance of a problem.  Bleeding, scarring and infections are risks that can occur with any procedure, but in my experience they are very rare with a Brazilian buttocks lift. Occasionally a patient's body will absorb more of the transferred fat that usual, requiring a second transfer. Overall, the advantages of the procedure have greatly outweighed the disadvantages for patients.
When you are ready to improve the contour of your buttocks, don't settle for anything less than state-of-the art techniques that get beautiful results. Find out if you are a candidate for an arm lift in Colombia at Premium Care Plastic Surgery. Then call us at (+57) 312 545 5569 in Cartagena and (+1) 305 848 1909 in United States or use our convenient online form to request a consultation at our office conveniently located in the heart of Boca Grande,Cartagena.